Crowns and Bridges: A tooth and implant supported rehabilitation of the maxillary arch
Nicky presented as a young mother who in spite of regular visits to the dentist, had reached a point where extensive treatment had become necessary to salvage and stabilise her failing upper dentition (Fig 1).
To achieve health and function and for Nicky to fulfil her desire to regain her youthful looks a combination of tooth extractions, root treatments, implants, crowns and bridges, would be required.
Nicky provided photographs of her smile from a time when she felt the aesthetics were at an optimum and an appearance that she was keen to regain (Figs 2a-b).
Initial Stages
A full intraoral examination was carried out. Impression's, a face bow and jaw registration were taken to provide mounted study casts which were used to aid case planning and initial temporisation from a suck down template.
Treatment
Treatment included extraction of teeth 12, 13, 23, 24 and 25, root treatment of teeth 14 and 12 with subsequent placement of gold post and cores, preparation of the remaining teeth, temporisation and after a healing period placement of three implants in the regions of teeth 13,23 and 24 (Fig 3).
Aesthetics, Temporisation and Definitive Design
An acrylic framework was fabricated on a solid working cast of the upper prepared arch (Figs 4a-b). A full wax up was applied to the framework against a mounted lower cast on which the lower posteriors were modified in wax in advance of planned future treatment (Figs 5a-h). The framework reinforced wax up was tried in to assess the aesthetics and from which new acrylic temporaries were subsequently fabricated (Figs 6a-c).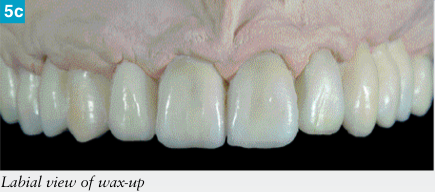 Definitive Design
Although the temporaries were made as a splinted arch it was decided for the definitive restorations to split the arch up as much as possible for ease of maintenance.
Tooth 16 was fabricated as a full gold crown. Teeth 15, 14, 21 and 22 were fabricated as individual porcelain fused to metal crowns. Teeth 13 to 11 were fabricated as an implant abutment (13) and tooth supported (11) three unit cemented porcelain fused to metal bridge. Tooth 23 was fabricated as a single implant supported crown, cemented onto a customised gold abutment and made from porcelain fused to metal. Tooth 25 was made as a cantilevered pontic from tooth 24. It was made with a stabilising precision attachment (Slide attachment, Cendres Metaux) into the mesial of tooth 26. Last but not least tooth 26 was fabricated as a single porcelain fused to metal crown with a mesial precision slot to stabilise pontic 25.
Fabrication of Definitive Restorations
Individual master dies (Figs7a-b) and a mounted solid working cast (Figs 8a-b) were used to fabricate the definitive restorations.
Cast onto abutments (Replace Select, Nobel Biocare) were screwed to the cast and waxed up to appropriate designs (Figs 9a-f) and cast in a type 4 gold (Degulor C, Dentsply). The gold crown was waxed to full contour and cast. A coping was waxed to tooth 26 and a precision slot(C&M) set into the mesial wall parallel to the implant abutment of tooth 24 using a surveyor (Figs 10a-c). The coping was cast and the male part of the attachment eased into place (Fig 11).
The coping for tooth 24 and the pontic for tooth 25 were, with the male part of the attachment, waxed up and cast. The remaining copings were cast, opaqued and the porcelain applied (Magic, Heppe DTS) (Figs 12a-g). Subtle surface characterisation brought life and youthfulness to the restorations and as a final touch to soften the appearance the bonding metal was gold plated to harmonise with the gold crown.
Cementation
The implant abutments were screwed and tightened into place. The definitive restorations were then cemented (Fig 13).
Conclusion
Regardless of the complexities involved in treating Nicky back to health and function, the aesthetic outcome (Figs 14a-b) achieved its goals and Nicky delighted in regaining her youthful appearance (Fig15).
Acknowledgements
Full credit to Dr Basil Mizrahi for managing a difficult case back to health and function, at the same tame achieving optimum aesthetics